We've Got You Covered
All rates are subject to 5% federal tax & $7 reservation fee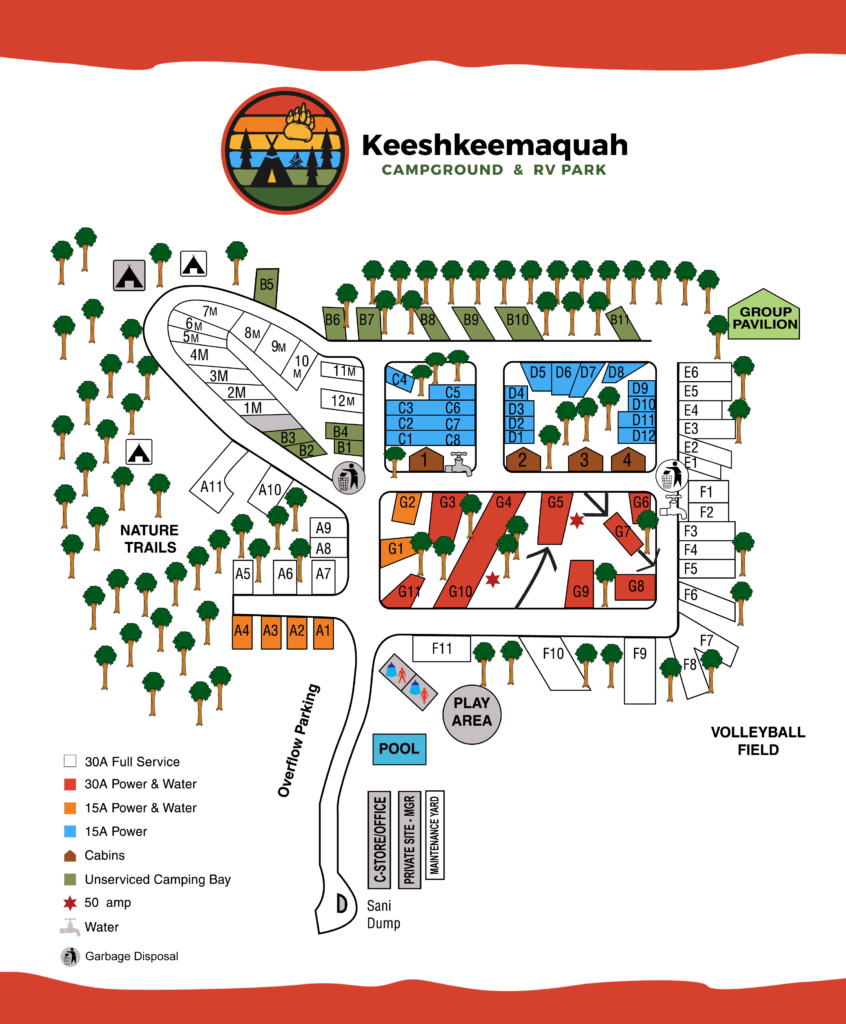 | Type of Site Per Night | Per Night | Weekly | Monthly |
| --- | --- | --- | --- |
| Non-Serviced Tent | $20.00 | | |
| Non-Serviced RV | $25.00 | | |
| Power (15 amp) | $28.00 | | |
| Power & Water (15 amp) | $29.00 | | |
| Power & Water (30 amp) | $32.00 | $195.00 | $700.00 |
| Power & Water (50 amp) | $34.00 | | |
| Full Service (30 amp) | $34.00 | $210.00 | $750.00 |
Extra Details
Rates are for up to a family of 5 people per site. 2 -Adults, 3 -Children
Additional persons will be charged $4.00 per night.
Stay till 5:00pm for $5.00. Subject to Availability. Campsites only
Check in time is 2:00pm – Check out time is 12 Noon.
Day use/visitor rates are $4.00 per person – includes use of swimming pool and facilities. OFFICE MUST BE INFORMED IF EXPECTING GUESTS
Reservation
A $7.00 reservation fee is required at time of booking.
A valid credit card is required to secure booking.
There is a minimum 3 night stay over public holidays/long weekends.
Refunds are not given due to inclement weather.
We require your Visa or MasterCard for bookings. On arrival you can pay by Credit Card/Interac (Debit) or Cash.
Cancellation Policies
If you cancel more than Seven days before your booking, there is $7.00 Administration fee.
If you cancel less than Seven days you will be charged for the first night.
If you fail to cancel you will be charged for the whole duration of your booking.
| Cabin Rentals | Per Night | Weekly (July & August) | Weekly (May, June, Sept.) |
| --- | --- | --- | --- |
| Cabins 1-6 |  Sleeps 6 | $60.00 | $350.00 | $330.00 |
Cabins Include: Small kitchen, Coffee Maker, Picnic Table & Fire Pit.
Check in at 4:00pm, Check out is at 12:00pm
Remembers to Bring Your Bedding & Dishes
NO PETS ALLOWED in Cabins
| Seasonal Rates (May Long Weekend to September 30) | Price |
| --- | --- |
| 30 amp, Full Hook-up | $1,700 & up |
| 15 Amp & Water | $1,200.00 – $1,400.00 |
| Winter Storage (Optional) | $150.00 |
PAVILION RENTAL – GROUP GATHERINGS
Fully covered 30 x 30 ft building
Includes: Tables and Chairs for 50 guests
Large Fridge
Wood Stove Inside
Large outdoor woodfired BBQ
Outdoor Fire Pit
Perfect for:
Family gatherings
Weddings
Church groups
Work functions
Anniversaries
Birthdays
Any large Function
Call for Rates